AZ Cardinals Surprise Eastmark High Football Player Battling Cancer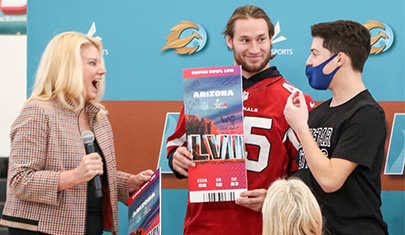 An Eastmark High School football player got the surprise of his life from the Arizona Cardinals after they learned he was battling cancer. He'll be going to this year's Super Bowl LVII.
Kevin Winegar is a linebacker for the school's state championship-winning team in the Queen Creek Unified School District. Shortly after winning the title, doctors diagnosed him with acute lymphoblastic leukemia and hospitalized him.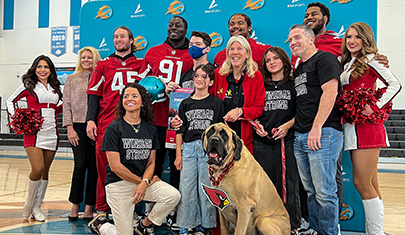 On Friday, January 13, Winegar was well enough to attend an athletics assembly at his school that turned out to be a cover for a big surprise. The Arizona Cardinals presented him with special recognition and tickets to the Super Bowl. His team and classmates were all in attendance. Their support for their teammate has been steadfast.
"I'm speechless," said Winegar after the Cardinals presented the tickets. "It definitely shows me that I have the support that I need."
Winegar has finished his first round of chemotherapy and is facing two years of ongoing treatment, but his faith, family, and friends are keeping his mindset positive. Winegar's family has established a GoFundMe account for those who would like to contribute to the costs of his recovery. To donate, please visit the Winegar Strong GoFundMe page.