From Ukraine to Arizona: Meet Eastmark High School's Newest Student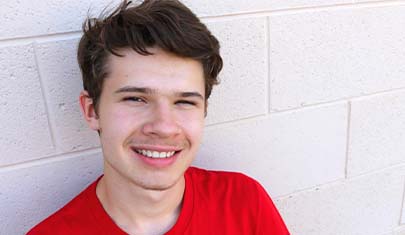 Ukrainian student Artem Samus is a junior at Eastmark High School (EHS) and a first-time visitor to Arizona.
"The state is all new but the hotness sometimes freaks me out," says Artem. "I was born in Ukraine; it's snowing so it has four different seasons. Here is like tropical climate."
Artem and his mother came to the United States in March to escape the war. They have relatives in the area including his sister, Alona Bergner, who says the school district was helpful in relocating.
"I feel like everyone has been so friendly and supportive, it was such an easy process for us," she said.
Their family saw kindness from the students and staff at EHS as they welcomed Artem to their school.
"[Artem] really likes the school and has already made friends there," said his mother. "Everyone is so open and kind. A lot of great teachers and curriculum. He really enjoys it, overall."
Artem's favorite classes have been History and Guitar, which he has been playing for five years.
"I look forward to take part in concert," says Artem. "I think this event will be great."
Although Artem has been able to find his educational experience at EHS a positive one, there are some things from his education in Ukraine he still misses.
"Ukrainian schools use more printed books," says Artem. "I think here [EHS], it's more modern. Everything is in high level."
Artem and his family expressed gratitude for the help and support provided by QCUSD and the surrounding community.
"I just really would like to say thank you to the school district, and to the teachers, anyone who helped Artem with his school," said Bergner. "The school helped him go back to normal life and we highly appreciate that."
Artem's orchestra concert will be held on May 10 at Eastmark High School.